Ben 10: Ultimate Alien - Video Games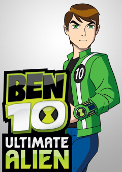 Watch Ben 10: Ultimate Alien - Video Games online full movie.

While Gwen and Kevin are fighting each other about bad driving teaching of Kevin, Ben's celebrity status lands him in a starring role in a video game. Using motion capture technology, they record the moves of his various alien forms to integrate them into the game. In reality, however, the video game offer is a ruse by TV reporter Will Harangue and his assistant Oliver as part of his plan to create a robot to defeat Ben. After defeating Ben twice and trashing his reputation, Harangue challenges Ben to a final showdown on live TV. Unable to defeat the robot conventionally, Ben realizes what Harangue has done and uses Nanomech, the one alien he couldn't get data on, to destroy the robot from within.
SUGGESTED
TAGS: