Ben 10 - Benwolf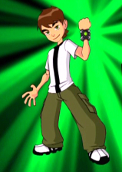 Watch Ben 10 - Benwolf online full movie.

During a visit to New Mexico, Ben falls in love with a Native American girl named Kai Green while a wolf-like creature appears in a flash of purple lightning. Once there, it begins stealing satellite equipment for an unknown reason. One of Max's old friends believes it to be a Yenaldooshi, or Navajo werewolf, a sign of pure evil. Wildvine fights the creature, but it bites Wildvine's root just before Ben returns to normal. It nearly kills Ben as a human, but he is spared when the wolf accidentally scratches the Omnitrix rather than Ben himself. Afterwards, Ben begins transforming into a werewolf himself, presumably an effect of the bite. The others hurry to kill the werewolf before Ben's transformation is complete. However, they discover that werewolf is an alien. By scratching the Omnitrix, it added its own DNA to the Omnitrix, which was gradually shifting Ben into Benwolf. Upon reverting to human form some time later, Ben fights the werewolf as Cannonbolt inside an active volcano, sealing it within. The group is unable to find the missing equipment, but assume the threat to be over. However, the alien had finished building a transmitter from the parts he salvaged, and it activates on its own.

Aliens transformed into: Wildvine, Blitzwolfer (first and last time), Cannonbolt.
SUGGESTED
TAGS: