Gravity Falls - Northwest Mansion Mystery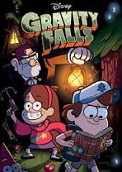 Watch Gravity Falls - Northwest Mansion Mystery online full movie.

Gravity Falls is an American animated series created by Alex Hirsch for Disney Channel, and now for Disney XD. The series revolves around the various antics of two fraternal twins, Dipper (voiced by Jason Ritter) and Mabel Pines (voiced by Kristen Schaal), who were handed over to their Great Uncle (or "Grunkle") Stan (voiced by Alex Hirsch), who runs a tourist trap called The Mystery Shack, in the town of Gravity Falls, Oregon. They soon realize that the weird and mysterious town holds plenty of odd secrets, and when Dipper obtains an old journal that he finds in the forest, they find that their everyday lifestyle changes with odd things and creatures they have encountered.
SUGGESTED
TAGS: