Masha and The Bear - Prances with Wolves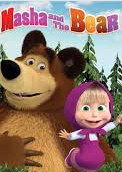 Watch Masha and The Bear - Prances with Wolves online full movie.

Masha is a Russian girl who lives in the forest with her pig, goat and dog. All the animals in the forest are afraid of her as she forces them to play with her. One morning, Masha sees a butterfly and inadvertently follows it inside the home of a bear who has gone fishing. While playing there, she makes a big mess. When the Bear returns, he sees the disaster caused by Masha. The Bear tries to get rid of Masha, but he is unsuccessful, and he and Masha become friends.

In each episode of the show, Masha is portrayed as a smart, very kind and mischievous little girl who is exploring the world through a number of entertaining situations where she demonstrates her assertiveness, being absolutely fidgety, whereas the kind-hearted Bear always keeps Masha out of trouble but often ends up the unintended victim of her mischief. There are several supporting characters in the series, including Masha's cousin – Dasha, a penguin adopted by the Bear, a young panda cub from China who is the Bear's cousin, two wolves who live in the old UAZ car, a tiger that worked with the bear in the circus, and Female Bear that is the object of the bear's affections, along with a hare, squirrels and hedgehogs, and a pig Rosie, goat, and dog who live in Masha's front yard.


Masha (Diminutive form of the name Maria/Mary) is a three year old girl. Masha is naughty and hyperactive, and always thinks about playing. She lives in a house near the Railway Station; near her house there is a path that leads to the bear house. Masha loves Bear very much, but in her games she tends to build up problems for Bear to bear. Her parents do not appear in the series. She loves sweets, jumping into a bucket and seeing the series of drawings of Masha and Bear. Masha's character combines the characteristics of 3-year-olds (making grammatical errors when speaking, crying when she is not given what she wants) with adult skills (playing tennis, fishing, cooking jams or playing electric guitar). She is voiced by Alina Kukushkina.

The Bear is a retired circus bear. He lives in a tree house in the forest, in some chapter he is seen as a cub in the same house when he remembers his childhood. In Russian language in some chapters Masha calls it "Mishka" (literally "Bear"), which is the name given to bears in Russian tales. He is huge and he is Masha's best friend.

Masha's pets are a dog, a goat, a pig, and, in the first episode, chickens, too. They live outside Masha's house in her front yard but almost every time Masha comes out they hide themselves to avoid her. The Pig is often forced to play with Masha, who makes her dress up like a baby in a stroller. In the episode "Dance Fever" it is revealed that the pig's name is Rosie.

The wild animals are a hare, squirrels, hedgehogs, and two wolves. Masha and a certain Hare (in the episode 'One, two three! Light the Christmas Tree' the present list of Father Frost in English describes this creature as 'Bunny') often play hockey together (and make a mess or accidentally hurt someone), and the Hare is occasionally an antagonist of the Bear, due to stealing carrots from the Bear's garden. The two Wolves live in a derelict ambulance on top of a hill and often look for something to eat, and strangely act as medics for any apparent injuries or illnesses though they sometimes fear Masha (due to Russian idiomatic expression "wolves are orderlies of the woods" ("Волки – санитары леса"), thus living in ambulance cab and acting as medics is a pun).

The She-Bear is a female bear. The Bear is enamored of her and sometimes goes out of his way to impress or even woo her. The first time she rebuffed him in favor of the Black Bear, only to realize how self-absorbed he is, and another time she turned her nose up at the Bear's banjo playing as she preferred more modern music. Even so, the She-Bear usually opens up to the Bear, such as the time she agreed to have a dinner with him, and she is sometimes kind to Masha, such as giving her a fashion magazine, helping to train her for her tennis match against the Black Bear, and helping her learn to ice-skate.

Dasha is Masha's cousin from Moscow. She looks like Masha but she is very different, she has beige hair, blue eyes, wears blue glasses and an orange dress. She is afraid of the Bear and calls him "Shaggy".

Panda is the Bear's young cousin from China, a panda cub. He and Masha are rivals, often bickering every time he comes for a visit but they occasionally get along and have fun together.

Whiskers n' Stripes is a tiger and the Bear's best friend from their days back in the circus where they both performed.

The Black Bear is the Bear's worst enemy and Bear's chief rival for the attentions of the female bear. He has an arrogant and unsportsmanlike personality, cheating to win against Masha in a tennis game, and laughing at her when she grows gigantic.

Penguin is a penguin that first appears in "The Foundling", as an egg that Masha finds and makes the Bear hatch. The Penguin quickly imprints on the Bear as his parental-figure and the Bear forms a sincere bond with him but chooses to send the Penguin to live in Antarctica for his own health. Even so, they stay in touch and the Penguin once visited.

Father Frost is a Santa Claus-like character from Russia who appears in Christmas-themed shows.
SUGGESTED
TAGS: