Sonic Boom - Can an Evil Genius Crash on Your Couch for a Few Days?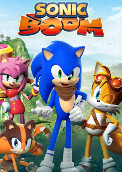 Watch Sonic Boom - Can an Evil Genius Crash on Your Couch for a Few Days? online full movie.

Sonic and Tails awaken to a knock at the door, where they find a disheveled Eggman who asks to stay at the house for a few days as his fortress has been damaged and is being repaired. Sonic grudgingly accepts, so Eggman, Orbot, and Cubot gleefully rush in and go to sleep. The next morning, Amy, Sticks, and Knuckles wake up and are startled; Sticks is particularly skeptical, believing that Eggman is preparing to sic one of his robots on them, but Amy is optimistic. Over the course of the day, Eggman continuously annoys his hosts, such as by starting impromptu pillow fights. Sonic and Tails attempt to boot him, but Amy sets up a meeting for everyone to reconcile their differences. Eggman cries dramatically and Amy implores them for Eggman to have a second chance, which they reluctantly agree to. However, Eggman continues pestering the two, and they cannot sleep at all. Sticks recalls her warning, and suddenly Eggman reappears, having snuck out discreetly, with a giant robot, revealing that he indeed tricked them. He orders it to destroy them, but it instead heads to his lair, where the animals agree to stop it so they can sleep again. Sonic and Tails destroy it using two self-destruct buttons, but only after the lair is destroyed anyway. The next day, Eggman reappears at their house and asks to stay again, but is scared off by Amy's suggestions of games.
SUGGESTED
TAGS: