SpongeBob SquarePants - Squid Wood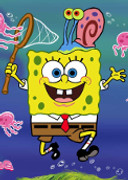 SpongeBob repeatedly annoys Squidward by asking Squidward if he wants to play, but every time Squidward says "No!," SpongeBob thinks he wants to play later every time he says that. After SpongeBob asks Squidward to play a numerous number of games with him, Squidward loses his temper and yells at SpongeBob, "...I will never play with you... EVEEEEERRR!" After throwing him down a hole (which SpongeBob drilled when he entered that bathroom) and covering it with his fridge, SpongeBob still thinks Squidward does not want to play yet. He runs to his house and creates a wooden, mini-version of Squidward, and calls him "Mini Squid." After hearing that Mini Squid will be playing with SpongeBob if Squidward does not want, Squidward becomes incredibly enlightened.

While SpongeBob and Mini Squid play Charades, Patrick walks by and thinks the Mini Squid is Squidward, and also thinks he has gotten smaller and shaved his beard, even though Squidward does not have a beard, confusing SpongeBob and Mini Squid.

At the Krusty Krab, Squidward tells a joke to two customers, but they do not laugh because of his mood while telling the joke. As SpongeBob and Mini Squid come in, the two customers start to favor him. Squidward takes a customer's order, but he doesn't like his attitude. Mini Squid takes Squidward's job as Cashier and takes the customer's order, and the customer likes his attitude. SpongeBob cooks the patties and Mini Squid delivers them to the customers. He tells Squidward's joke to the customers and they laugh because of his happy mood while telling the joke. Squidward starts to get mad at Mini Squid for stealing his joke. A lady wants to give Mini Squid a $300 tip. Squidward takes his hat and his job back, but Mr. Krabs tells him that he prefers Mini Squid because he is making him plenty of money and changes Squidward's job to dish washer.

Soon, Mini Squid starts impressing the customers with some dance moves. Squidward realizes that they were his moves and starts to dance, but the customers are not impressed since Mini Squid is dancing for their pleasure while the real Squidward is trying to hog the spotlight. Mini Squid and customers soon start dancing like jellyfish. Afterwards, Squidward gets mad at Mini Squid for stealing his life and starts squeezing him, bashing him, stomping him, and mauling him. Suddenly, a man tells Squidward to stop mauling the head of his "new client". Squidward realizes the man is a producer that represents his favorite clarinet player. Squidward thought he was there to sign him up, but the producer takes Mini Squid. He is offering Mini Squid a $1,000,000 contract and a sequined suit. Squidward tries to impress him, but fails with the agent essentially telling him that he will never become famous. SpongeBob bids goodbye to his new friend.

Squidward starts to sob because Mini Squid stole his dream, but realizes he will never see him again. SpongeBob then picks up a wooden, mini-version of himself. The two start laughing after each other, much to the dismay of Squidward.
SUGGESTED
TAGS: