Star Wars Rebels - A Princess on Lothal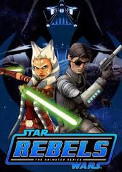 Watch Star Wars Rebels - A Princess on Lothal online full movie.

While Ezra grapples with the news about his parents, the rebels make plans with Senator Bail Organa to secure three much-needed cruisers. Leading the mission is an agent hand-picked by the Senator: his daughter, Princess Leia. Leia meets up with Kanan and Ezra and plans to have the Rebels "steal" her ships so as not to reveal Alderaan's support. However, their plans are thwarted when Imperial security proves to be much stronger than expected. The trio link back up with rest of the Ghost crew, rescuing Azadi from an Imperial patrol in the process. Leia then inspires the crew to come up with plan to steal the cruisers, with Leia distracting the guards while the Phantom provides air support and Azadi disables the gravity locks on the cruisers. The plan is a success, with the Rebels managing to steal all three cruisers while Leia blames the Imperials for their "failure" to protect them. Inspired by the actions of Leia and Rebels, Azadi decides to join the cause.
SUGGESTED
TAGS: