Star Wars Rebels - The Siege of Lothal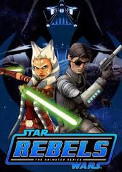 Watch Star Wars Rebels - The Siege of Lothal online full movie.

On orders to hunt down the Rebels and especially the Jedi among them, Darth Vader begins an oppressive campaign against Lothal's populace in order to find the group. The Ghost crew starts working with the wider Rebel cells, but are divided between joining the larger network and waging open war on the Empire, or staying out of a large-scale fight. The situation is even more complicated when Minister Maketh Tua, fearing punishment for failing to neutralize the Lothal rebels, tries to defect to them in order to escape Vader, offering to reveal the truth behind why the Emperor wants the planet. However, Vader uses this to his advantage and orchestrates Tua's murder by shuttle explosion, framing the rebels for the act and turning Lothal's population against them. The Ghost crew tries to flee but are cornered by Vader, who injures Kanan and Sabine and nearly kills Ezra before they finally escape. After being smuggled off-world by Lando Calrissian to escape the Empire, the demoralized crew meet up with Ahsoka's rebel cell, but Vader pursues them and proceeds to wipe out most of the rebel ships, discovering Ahsoka in the process. Ahsoka is horrified to learn that Vader is actually her old Jedi master, Anakin Skywalker. She joins the Ghost crew as they vow to join the wider fight against the Empire. Darth Vader later reports Ahsoka's existence to Emperor Palpatine, who issues Vader new orders to dispatch another one of their Inquisitors to capture the crew of the Ghost.
SUGGESTED
TAGS: