The Simpsons - Lisa the Vegetarian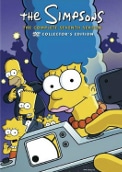 Watch The Simpsons - Lisa the Vegetarian online full movie.

After a visit with a lamb at a petting zoo, Lisa decides to become a full vegetarian. She tries to draw others towards it, but her efforts are wasted. At the same time, Homer decides to throw a barbecue and Lisa is outraged when those in attendance laugh at her suggestion of eating Gazpacho. She ruins the barbecue by destroying his main host (a roasted pig) and after refusing to apologize to Homer, runs away saying Homer is a prehistoric carnivore. She goes to the Kwik-E-Mart and meets Apu who reveals he is a vegan and tells Lisa to be tolerant and not go pushing her own views on everyone else. Lisa apologizes to Homer, admitting she had no right to ruin his barbecue. Guest stars: Paul McCartney, Linda McCartney, Phil Hartman.
SUGGESTED
TAGS: