The Smurfs - Puppy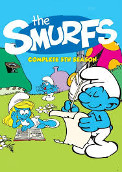 Watch The Smurfs - Puppy online full movie.

The Smurfs Season 5, which aired from 1985 to 1986, spelled the end of one existing Smurf character as we knew him -- the adult version of Nat Smurf who appeared in Seasons 3 and 4 -- and the beginning of three other Smurf characters who would collectively become the Smurflings, thanks to the de-aging of three adult Smurfs through Father Time's magical clock and the creation of yet another female Smurf by those same three former adult Smurfs. With their character introductions came yet another shift in story-telling, as the remaining adult Smurfs now had to deal with three young Smurfs having to go through childhood again with a young female Smurf thrown into the mix. Another character that was added was their new pet Puppy, who would balance out the inequity that existed between the Smurfs and their main adversary Gargamel. However, in the eyes of certain viewers, Season 5 with its major character introductions was the point when the cartoon show had "jumped the shark" and would continue its downward slide from then on, culminating with the proverbial "final nail in the coffin" with Season 9's time-traveling episodes.

At the beginning of the opening, we see the Smurflings riding Puppy and a horse passes them. We then see Smurfette and Sassette being chased by Azrael, who is then chased by Puppy. Next, Papa Smurf and some other Smurfs ride on Feathers and save Brainy, Clumsy, and Vanity from a hungry dragon. We then see a bunch of Smurfs rushing out of the castle of Gargamel, who walks out and opens one of Jokey's explosive giftboxes. We then see Dreamy sailing his boat through an extreme storm and a bunch of his friends are about to be eaten by a shark. It turns out to be a book cover that Papa is reading to Baby Smurf, who gurgles something in his ear. Next, the Wartmongers chase Papa Smurf and the Smurflings through the forest. At the end of the intro, Slouchy slides down the log and rushes to keep up with the others who get behind the SMURFS logo and then Puppy with Baby Smurf appears over the mushroom.
SUGGESTED
TAGS: