The Smurfs - The Tear of a Smurf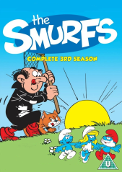 Watch The Smurfs - The Tear of a Smurf online full movie.

The Smurfs Season 3, which aired from 1983 to 1984, introduced the new main character of Baby Smurf as well as the adult version of Nat Smurf, who would remain an adult until Season 5. It also introduced a new object: Gargamel's Great Book Of Spells, which is activated the morning after the final phase of the full moon. It was also during this season that the cartoon special "The Smurfic Games" was aired. This season would also be the first where there were now 5 episodes that would air in its 90-minute running time until Season 8, with supporting characters Sir Johan and Peewit folded over into the main cast's stories. It was during Season 3 that the "non-canonical" Smurf story "The Smurfs And The Magic Flute", an animated film from Europe, made its run in American theaters in 1983.
SUGGESTED
TAGS: