Winx Club - Baby Winx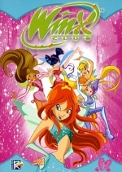 Watch Winx Club - Baby Winx online full movie.

This season focuses on the rare and powerful fairy animals of the magic universe. Each one possess a great power or secret that maintains order in the universe. The Winx Club, along with their good friend Roxy, must find and protect the fairy animals from Kalshara and her brother Brafilius. Kalshara is an evil fairy who has a shared history with headmistress Faragonda. Kalshara and her brother Brafilius plan to have all fairy animals as their own army. To succeed, Kalshara must locate the fairy animal who possesses "the Ultimate Power." The Winx achieve two additional fairy transformations named Butterflix and Tynix. The Winx Club encounter wild magic for the first time. Roxy plays a much more important role in this season, although she does not accompany the Winx on most missions as she doesn't have as much powers as the others.
SUGGESTED
TAGS: