Accel World - Destruction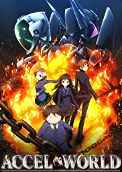 Watch Accel World - Destruction online full movie.

As Silver Crow and Dusk Taker's duel commences, he is able to deduce that the reason Dusk Taker's level is above his, because he doesn't duel, instead threatening other Burst Linkers. Silver Crow is able to initially dominate the match, however just as Dusk Taker's SP gauge fills completely, he uses his special ability: Demonic Command which he uses to steal Silver Crow's Aviation ability permanently, leaving him completely devastated. Unable to fight back, Silver Crow then loses the match and a portion of his Burst Points. Leaving the Accelerated World, Seiji boasts that he won't return the ability until he graduates. Seiji then proceed reminds Haruyuki and Chiyuri about the power he holds over them, forcing them to keep it a secret from Takumu and Kuroyukihime. As Haruyuki tries to keep what happened a secret from Takumu, their friendship is strained. Eventually Haruyuki falls into depression and becomes uncertain about what to do, even contemplating uninstalling Brain Burst. He then goes to the Green Legion's territory since he must still duel to obtain points and enters another match with Ash Roller. However, feeling useless without his wings Silver Crow loses the will to fight. Taking pity on his lack of motivation, Ash Roller takes Silver Crow to the old Tokyo Tower within the Unlimited Field to meet his parent and Silver Crow's predecessor in terms of aerial ability: Sky Raker.
SUGGESTED
TAGS: