Accel World - Domination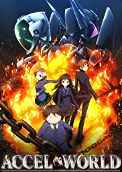 Watch Accel World - Domination online full movie.

Having been fully healed by Lime Bell, Dusk Taker makes short work of Cyan Pile after he snaps and charges, defeating him in horrific fashion. As Silver Crow is overcome by rage, a sinister power awakens within him and urges him to destroy Dusk Taker. He then manifests a power similar to Dusk Taker's, though the timer ends the battle before it can escalate any further. Upon returning to the real world, Haruyuki and Takumu confront Chiyuri, who claims she has joined up with Seiji and his "group" of her own will. Believing there is something more to this, Haruyuki tells Takumu about the Incarnate System, suggesting they should find a way for him to learn it before facing Seiji again. As Haruyuki grows fearful of the dark power within him, he calls up Kuroyukihime for a little bit. Later, Haruyuki and Takumu believe they may be able to learn something about the Incarnate System from Yuniko (Scarlet Rain). At school, Haruyuki finds himself under suspicion over the camera found in the girl's shower room and is again socially tormented, with only Sky Raker's words of protecting his friends supporting him, whilst Seiji smirks at his own deviance.
SUGGESTED
TAGS: